Author: Erica Parks, CBE President and CEO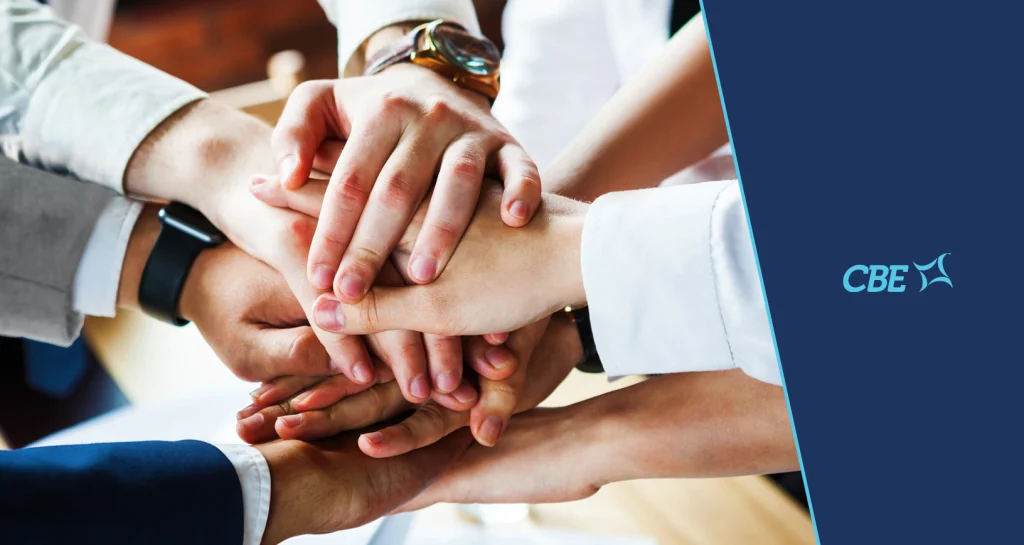 Taking a moment to celebrate our CBE community
As 2022 is drawing to a close, I'd like to slow down for just a bit to reflect on the incredible year we had at CBE. Diversity helps us to connect deeper with the clients and communities we serve, we've strengthened our commitment to hiring diverse talent to help CBE continue to provide high-caliber and caring services for our customers. As I reflect on all we've accomplished, I am very proud of all the people who make the CBE culture everything it is.
Thank you CBE leadership team
First, I'd be remiss if I didn't acknowledge the hard work of the CBE executive team. Each member exemplifies our core values and leads with integrity, care, compassion, and respect. It is with your help that we can foster an environment where our diversity empowers us to evolve for our clients and enable our 1,400+ talented employees to thrive.
Since 2018, we've followed the EOS framework and I've been fortunate to work with this team to find the optimum roles for each individual. Together, we hold each other accountable to make sure we stay on the same page and execute plans and goals. Our dedication over the last  4–5 years has brought stability and consistency.
Nick Michael, Chief Risk Officer has helped CBE with everything from sales and marketing to IT and client relationship management. Now, as our Chief Risk Officer, he oversees compliance, QA, Litigation Management, Cybersecurity and more. He is a deliberate, deep thinker who delivers the strategic guidance that CBE needs. Thank you, Nick, for being the person we can all count on.
Alex Reed, Chief Operating Officer has more than 30 years in this industry! He started as a bill collector right out of college and never left. Though he claims he isn't a people person, he is great with our clients, industry colleagues and the CBE community (he leads about 60% of our employees in the company in operations). I love how Alex trusts people (including me) to lead our company and I have full faith that he is the best person to guide CBE operations into the future.
Dr. Albert E. Smothers (Dr. Al), Chief People Officer truly understands how to lead people to different outcomes. As a former Chief of Academic Affairs at the University of Phoenix and now our Chief People Officer, Dr. Al fully embodies what it means to be a people person. (Fun fact, he used to insist on handing out diplomas so he could shake graduates' hands personally). Though newer to our CBE leadership team, Dr. Al is an essential asset to CBE and I'm excited to see his vision for our workforce. With four daughters, he knows how to navigate people!
Melissa Bechtel, Chief Financial Officer started at CBE just six months before I did and used to be my cubicle buddy over in finance. Bravely stepping into her role as our Chief Financial Officer, Melissa is a critical member of our leadership team, my "ride or die," and though I could sing her praises at length, I simply couldn't imagine CBE without her.
Lynn Reyolds, Chief Sales Officer is the intense driver of our team, always saying "Why can't we do that? Let's move faster; let's have higher, more aggressive goals." As our Chief Sales Officer (with about the same amount of industry experience as Alex), she is making a mark in the male-dominated industry of sales and collections. Lynn excels at examining different sectors and their growth — and understands how to achieve it. CBE truly benefits from her pedal-to-the-metal, tell-it-like-it-is gumption and we're lucky to have her pushing us forward.
Jonathan Brooks, President of Madison Wyatt is our CBE outlier bringing unrivaled passion to the CBE executive team. After building and selling data companies in the data industry, his fresh perspective and big heart make him perfect to challenge our thinking as part of the executive management team. He is an engaging and true philanthropic leader (his foundation, Hearts for Hadley, supports families faced with childhood leukemia) whose relationship-driven focus enables us to better serve our employees and clients.
Our diverse backgrounds and personal lives help us come together to focus on doing the right thing for CBE. It's not common in this industry, but we do things differently. We look out for each other and do the right thing to honor CBE's 90+ year reputation.
My sincerest gratitude to our fantastic employees
CBE cannot do all that we do without our employees. I must take this opportunity to thank our amazing workforce. From call center professionals to billing specialists, to facilities managers and everyone in between, your hard work and dedication to providing creative and caring solutions for our clients create a culture I am proud of every day. You truly make CBE a place where we can come together to do incredible things.
In 2022, we made impactful strides for our communities with our corporate social responsibility efforts. I'm so proud of everyone who participated in their local charities and our CBE philanthropic initiatives.
Heartfelt thanks to all of our CBE clients
And finally, I must thank all of our clients for trusting us to solve some of their biggest challenges. Though bill collecting is not always considered glamorous, it is necessary and possible to do it ethically — we are so proud you chose us to lend our expertise. It is an honor to serve our customers and help your businesses with these critical services.
I knew I had big shoes to fill when I stepped into the role of CEO, but I'm continually inspired by everything we're accomplishing together. While we look towards the future I'm optimistic about the connections we can forge, the community ties that we can strengthen, and the possibility to deepen our commitments to diverse staffing to ensure the success of CBE and our customers well into the future. I'm incredibly thankful for everyone who's joined me for this ride; thank you for trusting me to guide CBE to what's next.