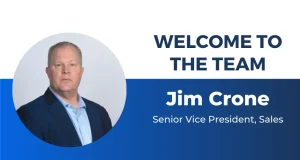 FOR IMMEDIATE RELEASE
Cedar Falls, IA – May 18, 2023 – CBE Companies is thrilled to announce the return of Jim Crone as Senior Vice President of Sales. Jim previously contributed to the success of CBE, and with his extensive experience and deep understanding of our organization, Crone is poised to again make a significant impact, further bolstering our commitment to innovation and growth.
With 39 years of industry experience, Crone is highly knowledgeable in accounts receivable management and business outsourcing processes. His proven track record in a variety of vertical markets including financial services, education, healthcare, utility, telecommunications, and government will significantly contribute to CBE's ongoing success.
"We are delighted to have Jim join CBE given his respected tenure in the industry." said Lynn Reynolds, Chief Sales Officer of CBE, "As we continue to grow, Jim's background aligns nicely for continued expansion of entities seeking customer excellence and performance."
Crone expressed his excitement about joining the CBE team, stating, "I am excited to be back with CBE Companies where I was fortunate to have previously been part of a team that produced significant growth during a six-year period. I worked with a lot of good people and not only gained friends for life, but we all learned and developed both professionally and personally by being a part of the CBE organization. It is great to be back in a position where I can have a positive impact on the organization and assist them in achieving their goals and objectives."
CBE is poised for growth in the soliciting additional first party and business process outsourcing (BPO), both domestically and globally. Crone will be responsible for growing CBE's opportunities in the consumer sector.
ABOUT CBE COMPANIES
CBE Companies is a global business process outsourcing provider with over 90 years of experience in accounts receivable management and call center solutions. Established in 1933, CBE's capacity to consistently adapt and evolve with ever-changing consumer behavior, business needs, and the regulatory environment sets us apart from other servicers. We invest in developing our employees, solutions, and organization to succeed in the future. CBE's success comes from our data-driven approach and commitment to staying ahead of the curve with new technologies, service offerings, and strategic partnerships.
For more information about CBE Companies, please visit www.cbecompanies.com or email Marketing@cbecompanies.com. Follow CBE on Facebook (@CBEcompanies) and LinkedIn (@cbecompanies) to stay informed of company events, employment opportunities, philanthropic and community updates, and exciting announcements celebrating CBE's extraordinary staff!