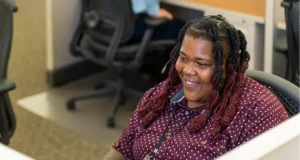 Industry-leading businesses understand the importance of quality customer service. The role of a customer service agent is more than just an entry level position, they are the voice of the organization. Their skills and decisions determine your customer's overall experience with your brand, both good and bad.
Companies experiencing customer retention issues often find poor customer service at fault. Agents with negative attitudes or lack of knowledge can drive customers away to competitors. In fact, TCN found that 73% of Americans are likely to abandon a brand after just one poor customer service experience. In addition, 53% said that speaking to a live agent is their top preference for communicating with a company's customer service department.
To optimize the level of customer service within your organization, CBE Customer Solutions has identified five important qualities of a successful customer care agent:
Effective Communication Skills: This includes both verbal and written communication. Customer care agents should communicate with customers clearly and concisely, whether they are speaking on the phone or through email, text, or chat. They should also listen effectively to understand the customer's needs.
Empathy: Customer care agents should empathize with customers, even when they are frustrated or angry. Putting themselves in the customer's shoes to understand how they're feeling, can go a long way.
Problem Solving Skills: Customer care agents will often be faced with difficult problems. They need to think critically and creatively to find solutions that fit individual needs.
Patience: Customer care agents often deal with difficult customers, therefore, must remain patient and calm even when the customer is not.
Professionalism: Being professional is always the utmost of importance for customer care agents since they are representing the company. This includes being polite, courteous, and respectful to the person on the other end of the conversation.
CBE's Top-Tier Training Program
Our award-winning training program is designed to help agents develop the qualities they need to be successful. CBE's exceptional commitment to training provides a fundamental knowledge base beginning on day one. Our expert trainers, supported by a comprehensive Learning Management System, ensure all agents receive the most comprehensive training possible. From shadowing tenured agents to role playing, to fun games and activities, CBE covers all bases to make sure agents have the knowledge and confidence to represent your company in a customer service capacity.

CBE's training program has been recognized a third year in a row as a Training Magazine APEX Award Winner. The 2023 Training APEX Award honors organizations that demonstrate best-in-class training and development practices, including learning management systems, employee support systems and satisfaction surveys, and tuition reimbursement programs. Significant investment in CBE's robust training commitment helps our staff become better at their jobs and better able to tackle challenges in their life away from work as well.
About CBE Companies
Founded in 1933, CBE Companies is a global provider of outsourced contact center solutions. For 90 years, CBE has continued to invest in developing and nurturing leaders throughout the organization by creating an environment in which individuals thrive, creativity is valued, and organic growth is achieved. CBE employs nearly 1,200 people in 3 locations globally, including a large work-from-home community.
For more about CBE Companies or information on how to join our team, please visit www.cbejobs.com  or email info@cbecompanies.com. Follow CBE on Facebook and LinkedIn (@cbecompanies) to stay informed of company events, employment opportunities, philanthropic and community updates, and exciting announcements celebrating CBE's extraordinary staff!