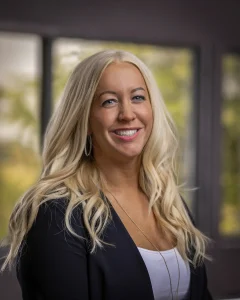 CEDAR FALLS, IA – CBE Companies, a leading global business process outsourcing provider, is proud to announce that it's esteemed CEO, Erica Parks, has been honored with the prestigious Influential Businesswomen Award.
The award, presented by Acquisition International Magazine, recognizes and shines a light upon women who are a driving force for innovation, change, and empowerment. This is a testament to Parks' visionary approach and unwavering commitment to driving innovation and excellence in the ARM & BPO industry. Under Parks' guidance, CBE has achieved remarkable growth, setting new benchmarks for success and customer satisfaction.
Erica is proudly the first female President and CEO of CBE and has since expanded the executive management team to be a diverse set of experienced leaders that includes two additional women. Parks has held several leadership roles since joining CBE in 2013 including Vice President of Finance, Chief Financial Officer, and most recently President and CEO. Parks and the Executive Management Team are responsible for executing the overall business plan and driving results for all stakeholders.
"I had a goal to be a CFO by the time I was 30 years old, and I achieved that at 28. I could not have fathomed what would occur since then." said Parks, "We have pivoted from a significant business downturn to 50% top line revenue growth over five years and improving our EBITDA margins from a negative to now more than 10% during that growth period. The trust the organization has given me to lead the company and the thousands of lives we impact every day is truly a blessing and my greatest honor."
Prior to joining CBE, Parks held roles at McGladrey (now RSM) as well as John Deere. She is a Certified Public Accountant, serves on the Cedar Valley United Way Board of Directors and Finance Committee, and formerly on the Executive Committee for Cedar Valley Women Connect, Women Lead Change. She and her husband also operate their own 501c3 non-profit, All About the Kids. Parks is a member of the American Institute of CPAs, Iowa Society of CPAs, and the Institute of Management Accountants. She holds a BA in Accounting with a minor in Finance from the University of Northern Iowa, and an MBA from the University of Iowa.
To see the entire article of the award please visit here: https://www.acquisition-international.com/issues/influential-businesswoman-awards-2023/51/
ABOUT CBE COMPANIES
Founded in 1933, CBE Companies is a global provider of outsourced contact center solutions. For 90 years, CBE has continued to invest in developing and nurturing leaders throughout the organization by creating an environment in which individuals thrive, creativity is valued, and organic growth is achieved. CBE employs nearly 1,200 people in 3 locations globally, including a large work-from-home community.
For more information about CBE Companies, please visit www.cbecompanies.com and follow CBE on Facebook and LinkedIn (@cbecompanies). Interested in speaking to one of our experts regarding CBE's exceptional ARM & BPO solutions? Submit your information here or reach out to info@cbecompanies.com and someone will be in touch!