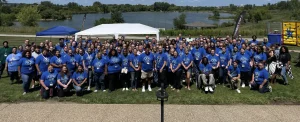 Ninety years of history, growth, and unwavering commitment to excellence. As CBE marks our remarkable journey, we take a nostalgic glance back at the inspiring story of how this company transformed from humble beginnings to the industry-leading force we are today.
The Foundation:
In the early 1900's, the Cedar Valley area was a growing industrial center. Sixteen area coal companies occupied the landscape, mining a rich energy source that was shipped by the Great Northern and Illinois Central railroads throughout Iowa and beyond. These businesses received monthly payments for their goods, creating the extension of credit. By 1918 the need for a formal credit business had developed and the coal companies, in partnership with the Waterloo Courier, Black's Dry Goods Store, Newton Jewelers and Walker's Shoe Store, formed the Creditor's Exchange. Soon after, this organization changed its name to the Retail Merchants Association.
In 1933, the Credit Bureau of Black Hawk County was opened and began competing as a collection agency with the 25-year-old Retail Merchants Association. In 1946, the Credit Bureau purchased the Retail Merchants Association, and the two companies were combined.
The Early Years:
Beginning in 1946, the Credit Bureau underwent several name changes and expansions. Between 1946 and 1978, the Credit Bureau acquired credit bureaus in Buchanan County, Oelwein, Cedar Falls and Waverly. Since 1978, the Credit Bureau has continued to grow by purchasing or opening credit, recovery or reporting agencies in Charles City, Des Moines, Mason City, Fort Dodge, Dubuque, Cedar Rapids and Iowa City in Iowa, Rock Island in Illinois, and LaPorte in Indiana.
Evolution and Expansion:
In 1987, the Credit Bureau incorporated and changed its name to Credit Bureau Enterprises, Inc.  In 1998, to reflect the 65-year growth of the company, the diversity of its services and its ownership of other corporations, Credit Bureau Enterprises, Inc. became known as The CBE Group, Inc. In 2013, due to the organization's growth and expansion of services, the corporation was reorganized with the parent organization now as CBE Companies, Inc. with many subsidiaries operating underneath. For most of the company's history, CBE has maintained steady growth by expanding its market to include the entire state of Iowa. This rate of growth has significantly increased since 1997, when CBE set a goal to aggressively increase its regional and national presence.
90 Years and Beyond:
Now in current operations, CBE Companies, Inc. has almost 1,300 employees globally, across the entire United States and in the Manila, Philippines. CBE has continued to invest in developing and nurturing leaders throughout the organization by creating an environment in which individuals thrive, creativity is valued, and organic growth is achieved. There are six active subsidiary organization driving vast services across many industries and has truly positioned as a business process outsourcing company.
As we celebrate 90 years of excellence, we look to the future with the same spirit of innovation and service that had guided us through the decades. With a strong foundation, a dedicated team, and a focus on evolving alongside the ever-changing landscape, CBE is posed to continue shaping industries and making a positive impact for years to come. Here's to the next 90 years of success, growth, and continued impact!
For more information about CBE Companies, please visit www.cbecompanies.com and follow CBE on Facebook and LinkedIn (@cbecompanies). Interested in speaking to one of our experts regarding CBE's exceptional ARM & BPO solutions? Submit your information here or reach out to info@cbecompanies.com and someone will be in touch!